Munich-based cleantech company SIQENS supplies a methanol-powered fuel cell for electrified Mini Moke from C&S in Schwäbisch-Gmünd, Germany
Pictures: Dino Eisele
The use of fuel cells based on gaseous hydrogen as range extenders in passenger cars or commercial vehicles has still not caught on: Yet electric powertrains with ideally designed fuel cells, can benefit from much smaller batteries, with significantly higher ranges.
The Duale Hochschule Baden-Württemberg (Baden-Württemberg Cooperative State University), C&S GmbH and SIQENS GmbH are now demonstrating such a powertrain – and are banking on liquid methanol as the energy carrier, because the alcohol is vastly superior to hydrogen in terms of handling and storability. The partners used a genuinely iconic vehicle as a test car.
The vehicle, called CSE Morris, is based on the Mini Moke, a buggy that has enjoyed cult status since the 1960s and appearances in James Bond. Originally developed for military use, the Mini Moke later became a lifestyle object. While James Bond used it to hunt down criminals, Brigitte Bardot drove the airy buggy in her free time – and turned it into a lifestyle object on the French Riviera, in Australia or the Caribbean.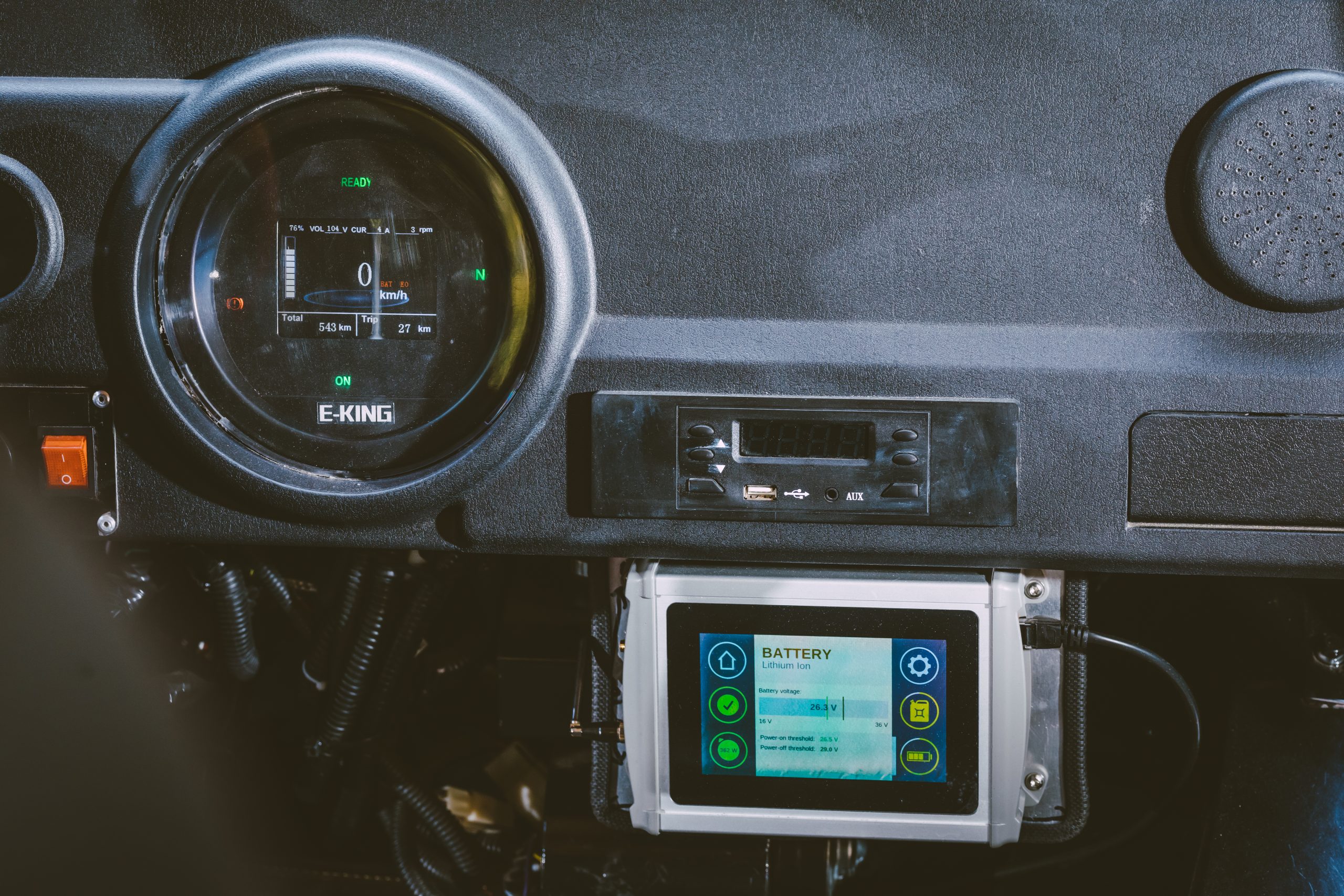 The new version developed and electrified in the cooperation project has a cobalt-free lithium iron phosphate battery with a capacity of 20 kilowatt hours. This results in a range of around 140 kilometers. In addition to conventional recharging at the socket, the battery can be supplied with energy while driving via the built-in SIQENS Ecoport 800, a methanol-powered fuel cell. With 40 liters of methanol, 800 kilometers of non-stop driving are possible.
Liquid methanol as a hydrogen carrier
The use of methanol brings a number of advantages – especially in the automotive sector. While hydrogen is generally volatile and can therefore only be fed into the tank under high pressure, the liquid alcohol is much easier to handle. As an industrial commodity, methanol is available worldwide and can easily be stored in plastic containers.
And yet the SIQENS Ecoport 800 only refrains from using hydrogen on the outside: Inside the device, hydrogen is extracted from the supplied methanol. The hydrogen reacts with oxygen at the fuel cell stack to generate electrical energy that is used to recharge the existing battery. Methanol thus serves as a liquid hydrogen carrier which, in addition to its superior storage and transport properties, has a higher volumetric energy density than liquefied hydrogen or hydrogen stored under pressure.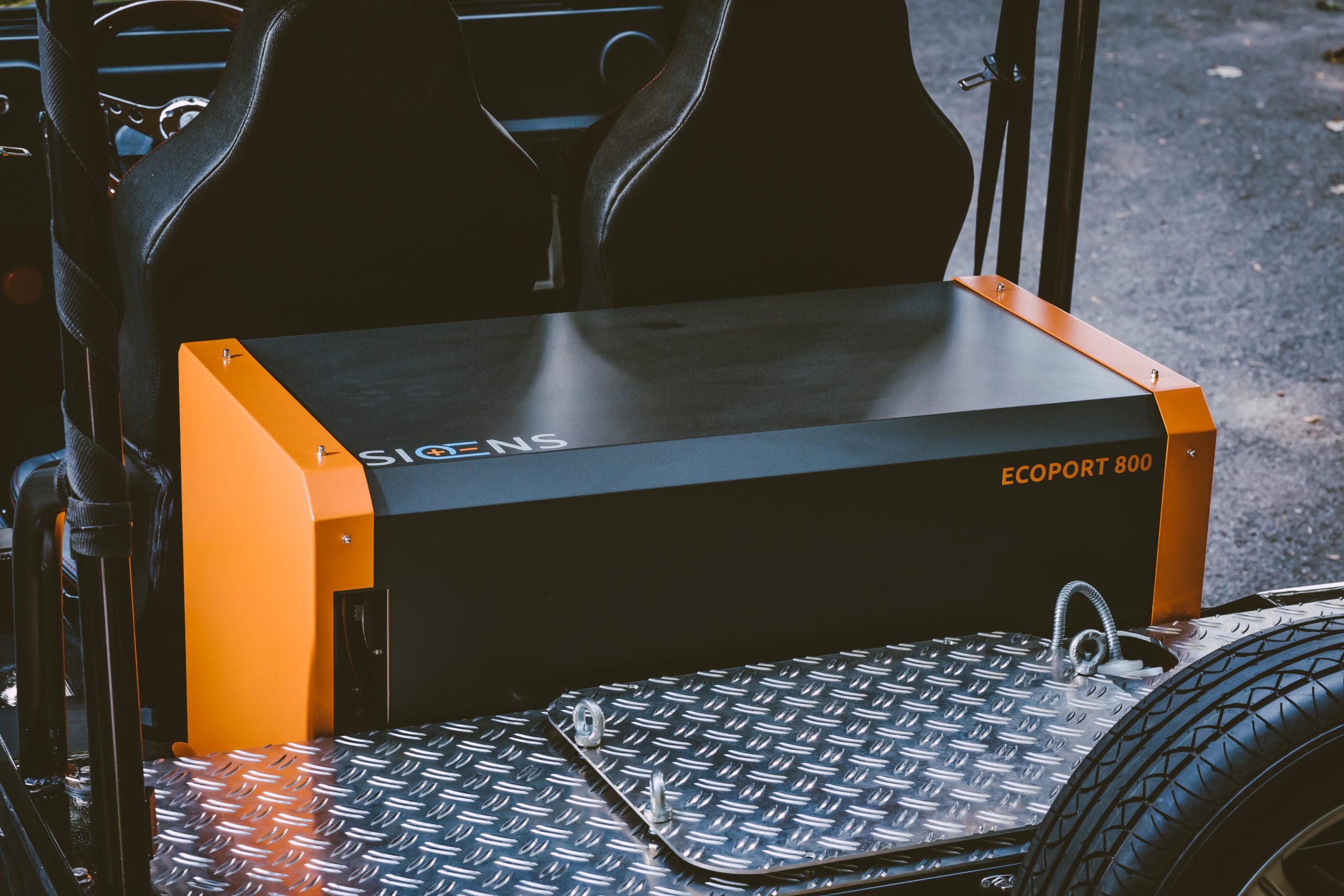 In its patented mode of operation, the system thus differs from other fuel cells – for example, the direct methanol fuel cells familiar from the camping sector – in which methanol is also used as a fuel, but in a highly pure form. In the SIQENS system, for example, methanol complying with industry standards can be used as fuel, and the unit does not need to be heated in standby mode – even at sub-zero temperatures.
Due to its low consumption, the SIQENS technology is currently used primarily as a power generator at locations without a grid connection or for temporary power supply at construction sites. The power output is 800 watts – variants with 1.5 and 3 kilowatts are being developed and are currently in the test phase.
Like hydrogen, methanol is today produced predominantly from natural gas. In addition to conventional production, several plants for the synthetic production of green methanol are already in operation – with further sites in the implementation phase. When energy is generated via fuel cells, neither nitrogen oxides nor particulate matter are emitted from the tailpipe.
At 1.09 kg per liter of methanol, significantly less carbon dioxide is emitted than with diesel at 2.65 kg per liter. Even when gray methanol is used, CO2 emissions are reduced by over 60 percent compared with an internal combustion engine – also thanks to the higher efficiency of the fuel cell. If synthetic methanol based on renewable energies is utilized, the vehicle becomes carbon-neutral.
Further vehicles under development
C&S GmbH, based in Schwäbisch Gmünd, Germany, is active as a developer of rescue and special vehicle technology. Last year, for example, the first "all-electric" e-ambulance was designed, built and delivered to the United Arab Emirates – and this year to Ireland. The special feature is that used ambulances, which are normally taken out of service due to high mileage, can be put back into service through electrification.
"The combination of a small battery and fuel cell as a range extender is particularly suitable for utility vehicles where a long range is required and the battery is often required to supply energy for additional devices such as a cooling unit," says SIQENS Managing Director Volker Harbusch. Other special vehicles are currently under development at our partner C&S in Schwäbisch-Gmünd. Harbusch: "We are convinced of this combination, and sure that we will be able to equip many commercial vehicles with it in the future."
About SIQENS
SIQENS, founded in Munich in 2012, develops and produces methanol fuel cells. The devices are used as an alternative to diesel generators and are used for backup power, as well as in locations without a fixed connection to the power grid.
The SIQENS fuel cell system, the Ecoport, runs on liquid methanol. Inside the Ecoport, hydrogen is derived from the methanol. The hydrogen then reacts with oxygen to generate electrical energy. The Ecoport is connected to a battery and automatically recharges it as needed. Connected electrical devices are supplied directly from the battery. Thanks to patented circuits for the recovery of process media and energy, the system runs exceptionally efficiently.
In contrast to diesel generators, fuel cells are economical, require hardly any maintenance and emit neither particulate matter nor nitrogen oxides, in addition to significantly reducing CO2 emissions. And with methanol from renewable sources, operation is completely climate-neutral.
Learn more about SIQENS fuel cells.
Learn more about the CSE Morris